Yuyin Ancestral Garden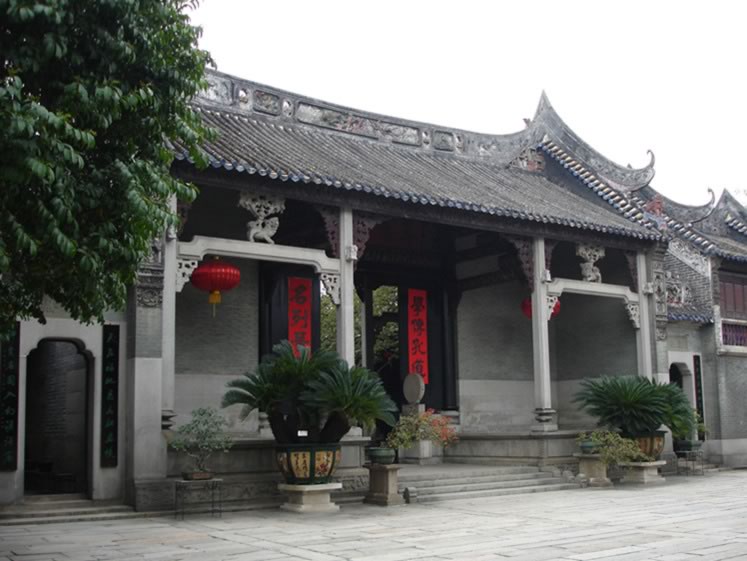 If you haven't spent several hours appreciating the delicate Yuyin Ancestral Garden, you can hardly imagine the existence of one of the four most famous ancient gardens of Guangdong Province at such a remote corner of Nancun Town, Panyu District.
The garden obviously has to draw visitors' attention to its sophisticated layout and elaborate details, occupying a mere total area of 1,598 square meters making it the smallest one among the four. All the typical elements in classic Chinese gardens are shown within the rather limited bit of land. You can have a good view of dainty pavilions, terraces, loggias, turrets, archways, bridges, boudoirs, balconies, halls, corridors and rockwork on ponds without feeling being cramped or squeezed. Multiple garden settings make access to multiple viewing angles and thus produce as many sceneries as possible.
Know More / Must See
The remarkable part of the garden should be a small bridge that seperates the Exquisite Waterside Pavilion from the main buildings. Though it covers only 20 meters, it manages to be a cute border between the western part Red Rain of Flowers and the eastern Green Cloud of Trees. If you can spare a summer day seated by the barrier of the bridge, you'll feast on crimson drops of Pyrostegiaignea above the full-of-lotus pond to the west side of the bridge as well as the jade-green shades of aged trees to the east side. Such a fabulous scenery makes the delicate bridge and the two scenic parts the symbolic spectacle of Yuyin Ancestral Garden.
The life of the owner of such an elegant garden must be extraordinary idyllic, yet paying a visit to the essential building Deep Willow Room (Shenliutang in Chinese) and Exquisite Waterside Pavilion (Linglongshuixie in Chinese), you would find a fascinating lifestyle far beyond your imagination. The Deep Willow Room seems to be an all-around showcase of those ingredients. You can see handwritings of several cultural elites then on the sandalwood-made screen, 2 vivid woodcarvings, 32 pictures on peach wood fans. More fantastic are the windows glazed with blue-and-white glass. They make access to views of the outside lotus pond, bridge and pavilion.
Other praiseworthy details include brick carving on the eaves, between-the-wall bamboos and lovely yard of the Ladies' Quarter besides the main building. By the way, a larger new section, named Garden of Cultural Prosperity (Wenchangyuan in Chinese) was built in 2006 in supplement of the original garden completed in 1871. The new garden boasts a four-storey Chamber of Cultural Prosperity, a magnificent array of rockery above the pond and a corridor whose ceiling is polished with colored drawings of Cantonese style.