IT World Hotel Guangzhou
NOTICE: Sorry, IT World Hotel has been closed down. We recommend the best-rated President Hotel which is at the same price range and with prime location.

Or you may check out our Guangzhou Hotel List or Canton Fair Hotel List for another choice, or Contact us directly.
IT World Hotel is a typical business hotel of 4-star rank. It boasts a fairly short distance from Canton Fair Pazhou Complex (within 4 minutes by car), 7-minute walk to the nearest metro station, 20 minutes driving to Guangzhou East Train Station, 30 minutes to Guangzhou Railway Station and 45 to Guangzhou Baiyun International Airport. Such a prominent location grants the hotel easy access to all main traffic arteries in downtown Guangzhou.
Completed in 2006, It World Hotel shows the guests 216 brand-new rooms and suites with 15 floors. Every room is an illustration of modern design concepts. All-around intelligent control system and delicate beddings brings the guests strong sense of security and at-home feelings. The beautiful view of the nearby Tianhe park helps the guest get rid of travelling fatigue shortly. Other facilities for meeting, dining, entertainment& sport are also well equipped to create a most cozy place of relaxation to all the guests.
Hotel Location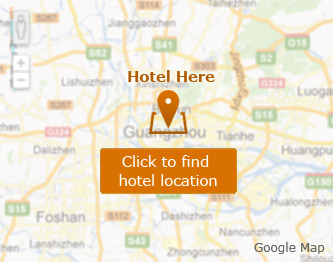 [ Click to enlarge ]
IT World Hotel Guangzhou, occupies a predominant location that is within easy access to all parts of Guangzhoucity.
| | |
| --- | --- |
| TO | DISTANCE |
| Canton Fair Pazhou Complex | 3.9km /2.34mile |
| Guangzhou BaiyunInternationalAirport | 37.1km /22.26mile |
| Guangzhou East Railway Station | 7.9km /4.74mile |
| Guangzhou Railway Station | 14.6km /8.76mile |
| Metro Station | 0.7km /0.43mile(Keyun RoadStation, Line 5) |
Customers who viewed this hotel were also interested in…
Rates From
USD

Enjoy this 5-star leisure hotel with Bali Island tone at the foot of Baiyun Mountain. 15-20 minutes' drive to either Airport or Canton Fair. Swimming pool and 18-hole golf course are bonus points. Canton Fair Package for greater savings & FREE E-invitation & Pearl River Cruise.


Rates From
USD

A downtown 5-star luxurious hotel next to metro/subway & electronics wholesale market & shopping centers. 15 minutes' drive to Canton Fair. Canton Fair Packages for greater saving and benefits (FREE E-invitation & Pearl River Cruise).


Rates From
USD

5-star modern property of the Royal Tulip Group, featuring SPA service & yummy Cantonese food. 25mins' drive to Canton Fair.


Rates From
USD

Brand new 4-star hotel with favorable rates and prime location. 3-5 minutes' walk to metro station, shopping malls and electronics wholesale market. 15 minutes' drive to Canton Fair.


Rates From
USD

Finest 4-star apartment hotel near Canton Tower with traditional furniture styles and gardens. Near local market. 5minutes drive to Canton Fair. Stay more to enjoy Canton Fair & FREE Pearl River Cruise.