Royal Mediterranean Hotel Guangzhou
Lowest Rate Guarantee: Up to 25% off for Canton Fair Booking with Full-Rate Pre-payment or Guarantee
Canton Fair Stay 3-night-or-above & Full-rate Guarantee/Prepayment, Earn FREE Pearl River Cruise Tickets
Free extra bed for fully prepayment booking for Deluxe Ksize Bed Room during Canton Fair period
Located in the booming Tianhe District, the 5-star international hotel Royal Mediterranean Hotel Guangzhou offers every guest comfortable staying experience by its top-class hotel facilities and services. Metro station is only within 2 minutes' walk, while the Canton Fair Pazhou Complex is about 15 minutes' driving distance and Baiyun International Airport about 40 minutes'. Wifi is available all around the hotel.
The hotel has 52 floors with over 400 elegant rooms and suites, designed to bring comforts and convenience for guests. Each room features a unique design with special layout and color scheme to match the discerning needs of each guest.
Restaurants of the hotel provide appetizing Chinese, Western and Japanese delicacies for guests' enjoyment. Other available facilities include a business center, an International Grand Banquet Hall, a massage room, SPA and a nightclub. Nearby the hotel there are also computer & electronics centers, shopping malls, etc.
With stylish comforts, impeccable service and contemporary amenities, the deluxe Royal Mediterranean Hotel is the epitome of luxury and elegance and is among top choices for international business and leisure travelers.
Hotel Location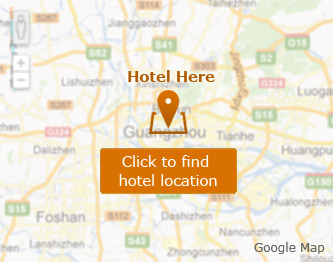 [ Click to enlarge ]
Royal Mediterranean Hotel Guangzhou
The Royal Mediterranean hotel is located in the prosperous Tianhe district, centre of business, finance, hi-technology and culture of Guangzhoucity.
| | |
| --- | --- |
| TO | DISTANCE |
| Canton Fair Pazhou Complex | 6km / 3.73mile |
| Guangzhou BaiyunInternationalAirport | 33km / 20.51mile |
| Guangzhou East Railway Station | 3km / 1.86mile |
| Guangzhou Railway Station | 10km / 6.21mile |
| Metro Station | 0.8km / 0.5mile (Exit C, Gangding, Line 3) |
Customers who viewed this hotel were also interested in…
Rates From
USD

Enjoy this 5-star leisure hotel with Bali Island tone at the foot of Baiyun Mountain. 15 minutes' drive to either Airport or Canton Fair. Swimming pool and 18-hole golf course are bonus points. Canton Fair Package for greater savings & FREE airport pick-up & Pearl River Cruise.


Rates From
USD

A downtown 5-star luxurious hotel next to metro/subway & electronics wholesale market & shopping centers. 15 minutes' drive to Canton Fair. Canton Fair Packages for greater saving and benefits (FREE airport pick-up, Pearl River Cruise).


Rates From
USD

A 5-star luxury at the foot of Baiyun Mountain featuring SPA service & yummy Cantonese food. Ultra-modern facilities plus convenient transport. Only 15 minutes' drive from Canton Fair. 3-nights-or-above stay for enjoying FREE Pearl River Cruise.


Rates From
USD

Brand new 4-star hotel with favorable rates and prime location. 3-5 minutes' walk to metro station, shopping malls and electronics wholesale market. 15 minutes' drive to Canton Fair. FREE Pearl River Cruise for 3-night-or-above stay.


Rates From
USD

Finest 4-star apartment hotel near Canton Tower with traditional furniture styles and gardens. Near local market. 5minutes drive to Canton Fair. Stay more to enjoy Canton Fair & FREE Pearl River Cruise.