Mausoleum of Nanyue King, Western Han Dynasty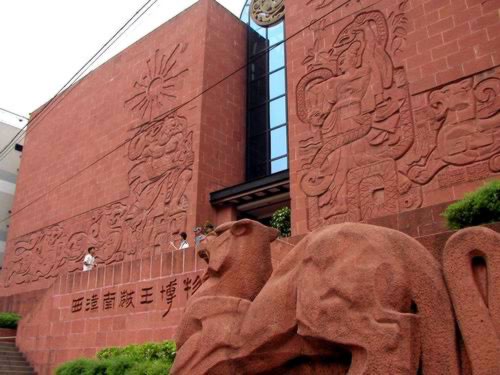 Mausoleum of the Nanyue King is the oldest and largest tomb with the richest funerary objects in South China. Zhao Mei, the owner of the tomb, is the second king of Nanyue State of the Western Han Dynasty (206 B.C.-24 A.D.).With an area of 100 ㎡, the tomb is divided into 3 parts, namely Front Hall Chambers, Central Coffin Chambers and Rear Food Storeroom. A total of 7 chambers are approached via a long tomb passage. The 7 chambers show different burial articles, illustrating what it takes to compose a typical tomb of an emperor in ancient China. Sets of rare treasure, banquet implement, arms, terracotta horses and wagons, exhibited at the Front Hall Chambers, are supposed to boast off the paramount power of the emperor whilst the sati concubines, cooks, guards, musicians are to entertain the emperor even after his death.
The brilliant local civilization of Nanyue Kingdom, though much underestimated in historic records by Central China historians, finally got strong statement from these exceptionally elaborate bronze ware, iron ware, pottery and jades buried in the mausoleum. They unveil a panorama of the Nanyue Kingdom where agriculture thrived, domestic trade flourished and sea route for foreign trade was opened.
Know More / Must See
Must-see artifacts:
Golden Seal of the Emperor: the first excavated Emperor's seal in China and the crowning treasure of the mausoleum. It's thoroughly made of gold with printed characters cut in intaglio. On top is an S-shaped dragon which represents the power of the emperor.
King's Gold-Embroidered Jade Suit: the best preserved jade suit in China and the oldest of its kind ever found in China. It is composed of 2,291 pieces of jade to protect the body and soul of the Nanyue King against evil and death.
Jade Pendant: made of green and white jade. Sculpted with the structure of twin circles, the inner of which is a dragon while the outer a phoenix.
Silver Case: With the features of Persia silverware, in flat roundness shape with wale on its body and its lid. It shows that Guangzhou has become an important port and distributing center during the Western Han Dynasty.
GuangZhou Attractions

Mausoleum of Nanyue King, Western Han Dynasty