Lotus Hill Scenic Area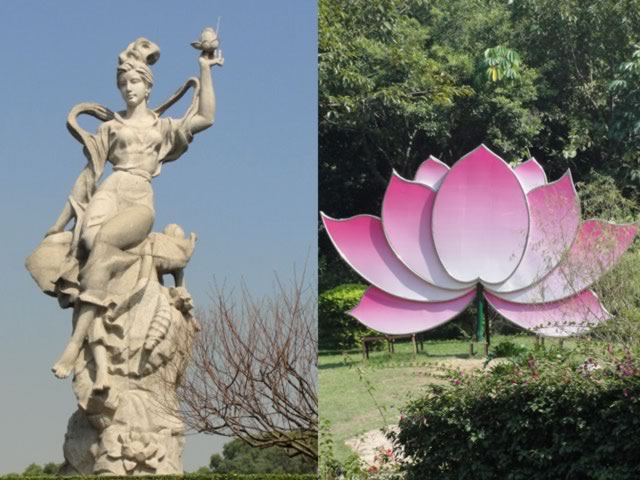 One of the Eight Sights of Guangzhou lies here. The world's highest gold foiled statue of Avalokitesvara stands stately here facing the gigantic sea. The best preserved ancient quarry site is found here. Lotus Pagoda has been serving as the navigation mark of Guangzhou for 400 years. Amusing Lotus Festival is held during June to August per year here. Concerning all the attractions mentioned above, you can't miss Lotus Hill Scenic Area in your Guangzhou tour!
Located in Panyu District, 20 km from downtown Guangzhou. The temple here needn't be afflicted with bustle and rustle, thus providing much convenience for you to delve into the beautiful details of the scenic area. Moreover, the perfect combination of Buddhism buildings and open natural settings, unlike downtown temples that are surrounded by out-of -place modern towers, helps create a religious tranquil feeling. Lotus Hill has recently been treated as the best place for praying for good fortune.
Know More / Must See
If you're bored with on-the-go metropolis life, sparing a day visiting Lotus Hill is a good alternative. Strolling into the gate, you'll be passing successively the splashing Lotus Waterfall, Lotus Pond in a blaze of lotus blossoms, dainty sculpture of lotus-picking fairy and the nearby lake where lines of white geese are swimming. Later turn to the big Lotus Lake. The grant annual Lotus Festival is held around here with thousands of lotus blossoms stunning and scented. The following magnificent Ancient Quarry Site forms a sharp contrast with those delicate adorable spots. The harsh red sandstone, which was cut and collected to build the base of the Mausoleum of Nanyue King in Western Han Dynasty over 2,000 years ago, remains in capricious forms of cliffs, stalagnates and hills. They should look as gorgeous as the naturally shaped Stone Forest in Yunnan!
Walking up the slope, you'll have the grant Avalokitesvara Temple and gigantic Avalokitesvara Statue and Sea View Observing Pavilion. The central Avalokitesvara with the real number of one thousand hands, as well as 72 side Avalokitesvara statues located on three floors, would win your wow for sure. However, don't take them for the utmost. Right beside the temple there stands the sparkling gold foiled Avalokitesvara statue, the essence of the whole scenic area. It reaches as high as 41 meters and boasts itself as the max in record. At last you can get fully relaxed in the 3-storey pavilion appreciating fantastic view of the Pearl River.