Yuexiu Park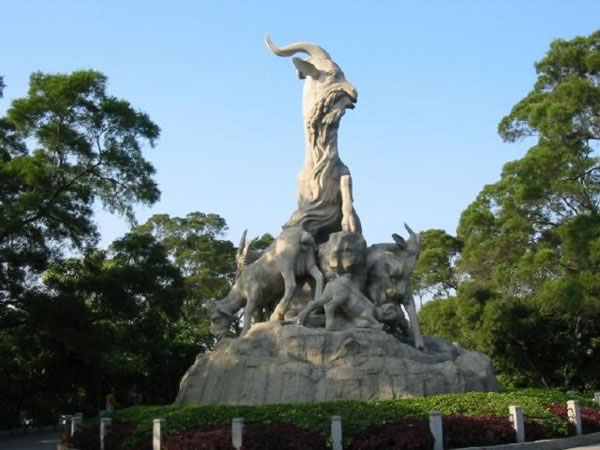 Built in 1952 and situated in the north of the city, Yuexiu Park is the largest park in downtown Guangzhou, covering an area of 860,000 sqm (212.5 acres). The park derives its name from Yuexiu Mountain, which is one of the three major mountains of Guangzhou. It consists of three artificial lakes and seven hills of Yuexiu Mountain, and is known as one of the Eight Scenic Spots in Guangzhou and also a landmark of the city.
Strolling among trees and flowers at this ecological park, visiting plenty of cultural relics and through countless local styled pavilions and corridors, the Yuexiu Park is a perfect place for both mind refreshing and getting closer to Guangzhou history and culture (Linnan Culture). The elegant and gorgeous environment nearby the three lakes – Dongxiu Lake, Nanxiu Lake and Beixiu Lake also contribute to nice places for drawing and sketching. Flower and lantern displays (e.g. Guangzhou Garden Fair) in spring and chrysanthemum shows in autumn are great adornment of this charming park.
Famous spots in Yuexiu Park include the Five Rams Stone Sculpture, Zhenhai Tower, Ancient City Wall of the Ming Dynasty, Sun Yat-sen Monument and many more.
Know More / Must See
Five Rams Stone Sculpture
Being the emblem of Guangzhou City, the Five Rams Stone Sculpture stands 11m high at the Yuexiu Park. Legend goes that over 2,000 years ago, when the Guangzhou people was suffering from famine, five immortals riding on five rams with auspicious clouds came to Guangzhou and sent the local rice ears which brought a bumper harvest to the people. Then the immortals left and the rams turned into stone as the protectors of the city. Therefore Guangzhou is also nicknamed Yangcheng (The City of Rams) or Suicheng (The City of Rice-ears).
Zhenhai Tower
Being the best-preserved, most imposing ancient building rich in cultural characteristics in Guangzhou, Zhenhai Tower is a five-storey tower built in 1380, standing 28m high above floor. It was changed to Guangzhou Museum in 1956, housing historical relics and documents displaying Guangzhou's over 2,000 years' history.
Ancient City Wall of the Ming Dynasty
Stretching about 1,100m from east to west, the Ancient City Wall is the oldest preserved city walls in Guangzhou. About 200m of the wall can be seen in the Yuexiu Park. With a history of over 600 years, the Ancient City Wall is the witness to Guangzhou's historical development.