Clayton Hotel Guangzhou Restaurant
Chinese and Western Restaurant with unique design could offer a fine selection of delicious cuisines.
Hotel Location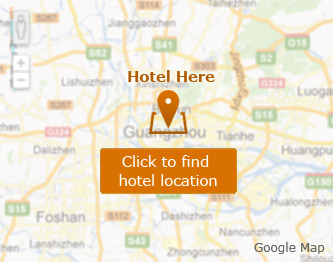 [ Click to enlarge ]
Clayton Hotel is located at Yuancun of Tianhe Commerical Center, near Guangzhou Tianhe Software Park, Guangzhou Information Port and Redtory (a famous rendezvous for art lovers). Only minutes' drive to Zhujiang New Town CBD, walking distance to metro/subway station (Keyun Road, Line 5)
TO

DISTANCE

Canton Fair (Pazhou) Complex

4km / 2.5miles

Baiyun International Airport

41.5km / 25.8miles

Guangzhou East Railway Station

6km / 3.7miles

Guangzhou Railway Station

17.3km / 10.7miles

Tee Mall Shopping Area

4.5km / 2.8miles

Metro/Subway Station

5-8 minutes' walk

(Keyun Road Station, Line 5)
Customers who viewed this hotel were also interested in…
Rates From
USD

Enjoy this 5-star leisure hotel with Bali Island tone at the foot of Baiyun Mountain. 15-20 minutes' drive to either Airport or Canton Fair. Swimming pool and 18-hole golf course are bonus points. Canton Fair Package for greater savings & FREE E-invitation & Pearl River Cruise.


Rates From
USD

A downtown 5-star luxurious hotel next to metro/subway & electronics wholesale market & shopping centers. 15 minutes' drive to Canton Fair. Canton Fair Packages for greater saving and benefits (FREE E-invitation & Pearl River Cruise).


Rates From
USD

5-star modern property of the Royal Tulip Group, featuring SPA service & yummy Cantonese food. 25mins' drive to Canton Fair.


Rates From
USD

Brand new 4-star hotel with favorable rates and prime location. 3-5 minutes' walk to metro station, shopping malls and electronics wholesale market. 15 minutes' drive to Canton Fair.


Rates From
USD

Finest 4-star apartment hotel near Canton Tower with traditional furniture styles and gardens. Near local market. 5minutes drive to Canton Fair. Stay more to enjoy Canton Fair & FREE Pearl River Cruise.